Parking Sensors @ £99 fitted at your home or work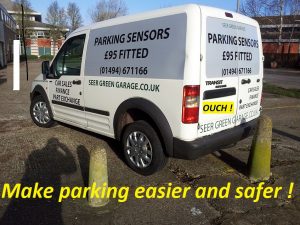 #### WE CAN NOW FIT PARKING SENSORS AT YOUR HOME /  WORK TO REDUCE CORONA RISK  ####
PLEASE RING NEIL 07973 507027 TO BOOK IN –

with 20 years parking sensors fitting experience and 33 years of auto electrical  installations. 
WE CAN SUPPLY AND FIT REVERSE PARKING SENSORS @ £99 FITTED at your home or work (average install time 2 – 3 hrs )
A CE approved (anything not CE approved fitted to your car can invalidate your insurance ! ) quality CISBO 4 sensor system that activates when you select reverse, alerting you to obstacles behind your car ,from a distance of  1.5m / 5ft
As you get closer the beeps get quicker until a constant BEEP warns you to stop at an industry standard  distance of 0.4m / 1.ft    (systems will display panels etc are available if required )
Great for parking and avoiding low bollards / walls / children / wheelie bins / cars etc …THEY ALSO WORK IN TOTAL DARKNESS !
£99 is less than most peoples insurance excess so save yourself a lot of hassle and money repairing your car and invest in modern technology today .
Front sensors systems are NOT available, due to how they work and the fact the take nearly 3 times to fit as rear sensors … so we have decided it is not worth our while ,sorry !
Once only on top spec cars now available to all ,ADDS RESALE VALUE TO YOUR CAR ALSO !.
COLOUR CODING AVAILABLE – choice of 29 sensors colours apart from the standard black ,available at £10 extra (popular colours in stock others available next day or so ) .
WE EXACTLY COLOUR MATCH FOR £35 EXTRA BEFORE FITTING – using our  bodyshop and your cars paint code ( 48hrs notice required )
Please ring for full details – .Manufactures 3 year warranty on parts
SUITABLE FOR VANS AND CARS , CAMPERS ETC ETC anything is possible (literally decades of of installing parking sensors )  so please ask